Rectangle and Square Wrought Iron Dining Tables
Beautiful craftsmanship and unique design highlight our collection of rectangular iron dining tables. You'll find our curated selection of iron bases with design elements such as ornate scrolls, contemporary lines and nature themes topped with finely finished wood, reclaimed wood, glass and hammered copper offer a myriad of customizable choices to fit every style decor from Old World to modern. Our table tops and bases are also available to purchase separately. With many sizes from which to choose, rectangle dining tables are perfect for an intimate dinner for two, a luncheon for four or for entertaining larger parties of six or more. Create an inviting dining space you, your family and guests will enjoy for years to come with one of our gorgeous wrought iron dining tables. Helpful Rectangle Dining Table Information.
---
---
Your Helpful Guide to Rectangular and Square Wrought Iron Dining Tables
What rectangular iron dining table styles do you offer?
You will find many interesting table styles, including:
Traditional
Ranch (sometimes called cowboy)
Contemporary (and industrial)
Rustic
Transitional
Modern
Can you give me some ideas for using a rectangular iron dining table?
Try a rectangle table with curved legs or intricate scroll work on the base for a more formal appearance.
A glass top creates a delicately formal look while showing off the table's decorative base.
Go for a solid wood top in a finish that matches your dining room's theme to create a color coordinated look.
Depending upon your chosen decor style, many types of dining chairs work well with rectangle wrought iron dining tables such as: wood, wrought iron, wood/metal mix, and fully upholstered.
When selecting dining chairs for your rectangle table, consider space and size limitations or requirements of the table and your dining room.
Consider decorating your rectangle table top with a decorative fabric runner, large floral arrangement, a grouping of ceramic vases and pots, one or two ornate candelabras, or a large urn overflowing with greenery.
What materials can I choose from for my rectangular iron dining table?
Our dining tables are created from wrought iron and other high quality materials, including:
Hand-forged wrought iron with lots of appealing finishes
Aluminum
Zinc
Copper
Marble
Wood in several finishes
Glass
Key information to keep in mind when selecting your rectangular iron dining table:
For a rectangular room, a similar shaped table will maintain visual harmony.
Standard rectangular dining table measurements range from:

28" to 30" | High
60" to 80" | Long
36" to 42" | Wide or Deep

Rectangle dining tables work best in larger dining rooms, they will fill the space while accommodating more people than a square or round table.
Allow a clearance of 42" - 48" between the dining table and the walls or other furniture in the area. This space is required for comfortably sitting at or getting up from the table and walking around it.
Each person should have 28" - 32" of space. This includes 24" - 28" for the chair and about 4" - 6" between two chairs.
Make sure your table height allows the arms of dining chairs to slide beneath the top. Also allow an additional 2" of space per seat if you are choosing armchairs.
A table with a pedestal base rather than legs will seat more people. Generally, a 36" table top with a pedestal base can seat 4 people while a 60" table with a pedestal base will accommodate 6 diners.
Diners should have 12" - 14" of leg room beneath the table. Using a pedestal allows for more leg room and hence a more comfortable dining experience.
Include the extended dimensions in planning if you are considering a table with leaves for hosting large groups.
Timeless Wrought Iron Dining Table Guide:
For more information and tips, check out our handy
Dining Table Guide.
You can read online or download it for later reference and printing.
Explore more about dining tables with these blog articles written by our expert designers.
"Rectangular Tables for Awesome Dining Rooms"
Think rectangular dining tables are boring and uninspired? You may rethink that idea after you explore this post, "Rectangular Tables for Awesome Dining Rooms".
"Dining Rooms: Rectangular Tables + Color"
Sometimes, color can be just the thing to wake up a dining room. See what we mean and take away lots of beautiful and inspiring ideas from this post, "Dining Rooms: Rectangular Tables + Color".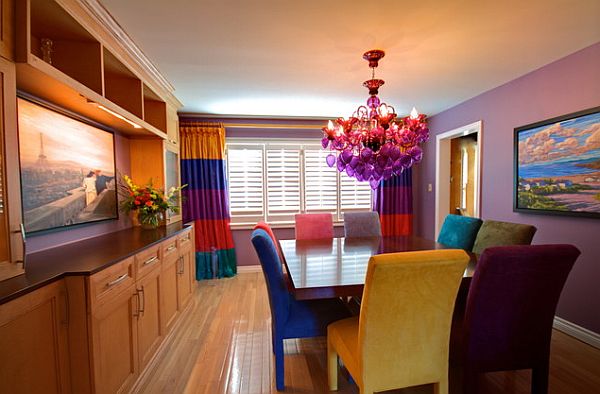 "23 Unique Dining Room Table Designs"
The Decoist pulls together 23 unique dining rooms, including some with rectangular tables. See which one is your favorite.
"Room Size, Shape Dictates Table Size, Shape "
The Las Vegas Review Journal offers extensive information and design tips in answer to a reader's question about the best table size and shape for a dining room redo.